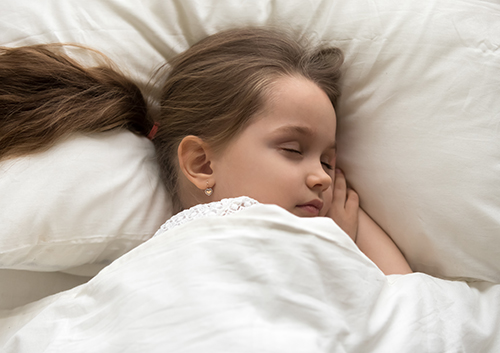 Sometimes the reason for a poor night's sleep is obvious. Maybe your child watched a scary movie. Or loaded up on sugar before bed. Or can't get to sleep after a night of computer screens or video games. Not much we can do about these problems.
Sometimes, though, the cause of your child's sleep difficulties is dental in origin, and that is something Drs. Joanne Oppenheim, Marilia Montero, and Mary J. Hayes can help with.
Teeth grinding, or bruxism, is a very common childhood dental problem. While children with this condition sleep, their jaws clench and their teeth grind against each other throughout the night. When to suspect children might suffer from bruxism? When they experience:
Frequent headaches or facial pain
Waking with a sore jaw, or popping or clicking jaw sounds through the day
Teeth which are chipped, cracked, flattened, worn down, or sensitive
Waking up tired, because grinding affects the quality of sleep
Siblings who complain about nocturnal grinding noises, which affect the quality of their
Pain and fatigue are unpleasant enough, but there are additional serious consequences for those who suffer from bruxism. Our jaws are extremely powerful, and clenching and grinding can put hundreds of pounds on pressure on teeth and jaws over a few hours of sleep.
These forces can lead to damaged teeth and dental work, and problems with the temporomandibular joint, or TMJ, the complex hinge that allows our jaws to move up and down, back and forth, and side to side.
Clearly, prevention is clearly a much better option for a healthy smile. And one of the simplest and most effective treatments for preventing the damage caused by bruxism is a night guard.
Night guards fit over the affected teeth to prevent them from touching directly, saving tooth and enamel from injury and wear. Not only do night guards prevent contact, they spread the biting forces of the jaw over the surface of the guard to greatly reduce their impact. And because they also stop the jaw muscles from clenching tightly, there's no excess stress placed on the temporomandibular joint.
For all these reasons, a night guard is pretty much a slam dunk for adults who grind their teeth. But for children, it's not necessarily an automatic decision. Why?
If tooth grinding is mild and appears to be limited to baby teeth, children often outgrow the condition. Your dentist can let you know if you need to do more than monitor the situation.
Sometimes it seems like your child's smile changes from day to day. Between losing baby teeth and erupting adult teeth, this beautiful smile is a work in progress. A fitted night guard might not be a perfect fit while your child's teeth are still coming in and shifting position.
Finally, jaw and facial pain can also be caused by problems with your child's bite or misaligned teeth, and that might mean that an orthodontic consultation is in order.
But if you suspect your child is suffering the effects of night time grinding and clenching, give our Chicago office a call. A thorough examination will provide you with the best diagnosis and solutions for helping your child retain a healthy smile and regain a healthy night's sleep.
And if a night guard is recommended, a dental professional is the best person to see for the most effective night guard.
While over-the-counter products are available, a custom night guard is designed to fit your child's individual teeth and mouth perfectly. Impressions or 3D scans are taken in the office, and a guard is fabricated with the precise shape, strength, and thickness needed to protect young teeth. And, as a bonus, custom night guards offer the most comfortable fit for the most comfortable night's sleep.
Scary movies, a late night sugar rush, mesmerizing video screens—not much we can do about those! But if your child is suffering lost sleep and painful mornings because of tooth grinding, give us a call. A night guard just might be the key to sweet dreams.