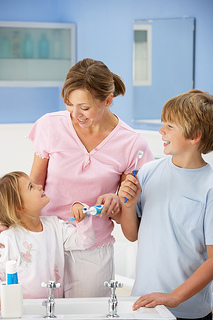 When you were a child, your mother may have instructed you to drink all your milk to build strong bones. Now that you have children of your own, you may hear yourself parroting those instructions you received years ago. Getting enough dairy is essential for young children whose teeth are growing. A child who consumes the recommended daily serving of dairy will develop healthy, strong teeth for the rest of his or her life.
Structure of the Tooth
To fully grasp the importance of dairy for dental health, it is necessary to understand tooth structure. Your teeth are made of living tissues covered by a hard outer shell. The inner dental pulp is fed by blood vessels and connects to a nerve bed in your gums. Surrounding the pulp is dentine, a calcified tissue that is less brittle than the tooth's outermost layer, the enamel. The enamel layer is the white part of your teeth, 96% of which consists of minerals such as calcium phosphate.
How does dairy help my child's teeth?
Milk and other dairy products are excellent sources of calcium. Your child's body deposits this calcium into her growing bones, including the teeth. Calcium contributes to bone growth and strength, and it forms an important part of the solid enamel that surrounds each tooth's fragile inner pulp. Milk also contains vitamin D, phosphorus, magnesium, and proteins. Magnesium promotes calcium deposits in your enamel, while phosphorus forms a small barrier against acidic foods that cause cavities. Vitamin D and protein are used by a child's body to build bone tissue and maintain dental health.
How much dairy does a child need?
According to a study conducted by researchers at the University of Connecticut, the majority of Americans do not receive enough calcium. The U.S. Department of Agriculture recommends that children under the age of eight should receive at least two and a half cups of dairy per day. Children older than eight need three full cups — the same as adult men and women. Supplying your child with nonfat milk to drink and yogurt to eat every day is a great way to increase dairy consumption.
Growing children who do not get enough dairy in their diets risk improper tooth development and other dental health problems. Drinking sugary beverages in place of milk causes cavities and tooth decay. As a parent, it is essential to monitor your child's dairy consumption to ensure he or she grows healthy teeth to last a lifetime.