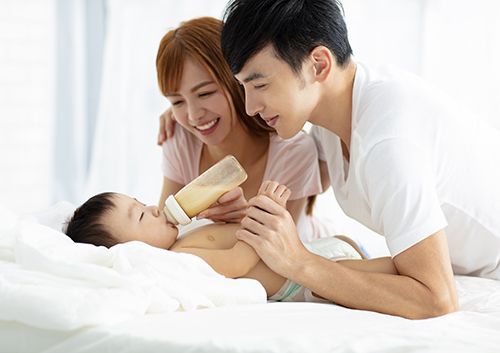 Your beautiful baby is finally asleep, bottle clutched in tiny hands, dreaming sweet dreams with a charming milky smile.
Unfortunately, this lovely fantasy might lead to a rude awakening. If your child goes to sleep every night with a bottle, the chance of childhood cavities greatly increases. In fact, there is even a name for it—baby bottle tooth decay.
How Can Bottles Lead to Tooth Decay?
Cavities are created when oral bacteria produce acids that erode enamel, the protective outer coating of the tooth. These bacteria love to feed on sugar. Baby formula and even breast milk contain carbohydrates in the form of sugars. And this is not a bad thing!
Carbohydrates are essential for babies (and adults as well) for growth and development. Lactose, the sugar found in breast milk, is a carb that is easy for your baby to digest and helps good bacteria in the digestive system grow. Formulas with cow's milk also contain lactose, and even the other kinds of sugars found in formula provide your baby with necessary, easily digestible carbohydrates.
But when your child goes to sleep with a bottle, those healthy sugars aren't all being digested. Liquid can pool in the mouth bathing those perfect new teeth with sugar all through the night. That's why we don't recommend letting your child go to sleep with a bottle of formula.
And if your older child's bottle is filled with juice or other sugared drinks, the effects are potentially much more harmful. Eventually, sugar left in the mouth all night will lead to the development of cavities, and in severe cases, to infection and even tooth loss. The upper front teeth are most often affected, but other baby teeth can become decayed as well.
How Can You Help Prevent Baby Bottle Decay?
Start early by gently wiping your baby's gums and erupting teeth after each bottle or breast feeding with a clean, damp washcloth or gauze pad. (Even though breastfed babies have a reduced risk of early cavities, it's still a good idea to clean their gums and teeth after feedings.)
Once those little teeth have come in, use a baby-size toothbrush to gently clean them. Talk to us about toothpaste—when and how much is appropriate for your child.
Babies generally require breastfeeding or formula at night to get the nutrition they need. It's best if they finish their feeding before naps or bedtime so you have a chance to clean little mouths. If your toddler carries a bottle or sippy cup through the day, or insists on a bottle at night, talk to us or your pediatrician for ideas on how and when to substitute tooth-healthy options such as water.
Limit unnecessary or unhealthy sugars. Never put sugar-heavy juices and sodas in your child's bottle or cup, or sugar or honey on a pacifier.
Your Child's Baby Teeth Are Important
Your child will start losing those baby teeth around the age of six, but primary teeth provide many irreplaceable benefits before they are, well, replaced. Using the teeth to bite and chew food helps form proper eating habits and develop jaw and facial muscles. Baby teeth help with speech development, and they serve as place holders to make sure the adult teeth erupt in the right spot. Losing baby teeth too early can interfere with all of these goals.
As soon as that first tooth makes its appearance, or by the age of one, bring your baby to our Chicago office for a first checkup. Drs. Joanne Oppenheim, Marilia Montero, and Mary J. Hayes and our team will not only make sure everything is going according to schedule, but we will check tiny teeth for enamel erosion and even cavities. Most important, we'll suggest ways to prevent cavities and tooth decay with proactive dental care. We have many great ideas on making sure your little one's teeth are healthy from bottle to baby teeth, preparing your child for a lifetime of beautiful, healthy smiles. And that's a dream come true!