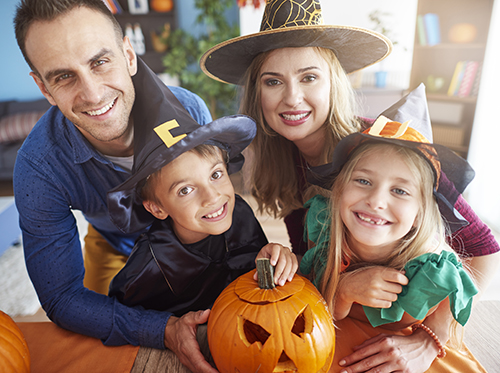 Halloween is an annual event celebrated by both children and adults every October 31. Some scholars claim that it originates from the celebration of Celtic festivals that honored the dead and harvest season. This day marks the end of summer, and the transition to cold winter months ahead. No matter what the origin may be, Drs. Joanne Oppenheim, Marilia Montero, and Mary J. Hayes and our team hope all our patients have a fun and safe Halloween!
The History of Halloween
North America predominantly celebrates Halloween by dressing up in costumes, going trick-or-treating to collect candy, and eating an abnormal amount of sweets. This tradition goes back hundreds of years and usually involves celebrations throughout the month of October.
Halloween festivities can also include carving pumpkins, going on hayrides, visiting apple orchards and haunted houses, watching scary movies, attending costume parties, and much more!
Spooky Facts
Fifty percent of kids prefer to receive chocolate candy for Halloween, compared with 24% who prefer non-chocolate candy and 10% who preferred gum.
One quarter of all the candy sold each year in the U.S. is purchased for Halloween.
The first jack o' lanterns were actually made from turnips.
Halloween is the second highest-grossing commercial holiday after Christmas.
The largest pumpkin ever measured broke the world record in 1993 by weighing in at 836 lbs.
Worried about your child's teeth?
Limit the amount of candy he or she consumes each day.
Have your child brush his or her teeth after eating candy.
Avoid hard, chewy candies, because they can stick in hard-to-brush places.
Keep candy out of sight to reduce temptation.
Don't buy candy too far in advance so you can limit pre-Halloween consumption.
Help or encourage your kids to floss.
Moderation is key when it comes to your oral health and celebrating Halloween. Make sure to schedule your child's next appointment at our Chicago office if you notice any issues with his or her teeth. We hope you have a fun and spooky Halloween!