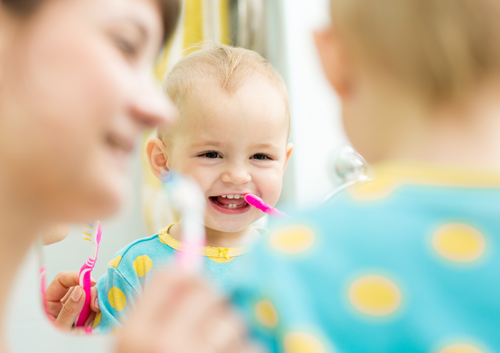 As a parent, it is your job to instill good dental habits in your kids, and this starts even earlier than you might realize. The American Academy of Pediatric Dentistry responds to the "when to start" question with a succinct "The sooner the better!"
From the time your baby is born, you should make sure that your child's gums are regularly cleaned using water and a toothbrush made for infants. Once the first tooth erupts, you should visit the pediatric dentist for the first time. Drs. Joanne Oppenheim, Marilia Montero, and Mary J. Hayes and our staff often recommend that if your child is a year old, but has yet to get the first tooth, you should bring your son or daughter to our Chicago office for his or her initial dental care appointment.
Once your child's teeth start to appear, you can begin brushing two times per day, using fluoride toothpaste. Choose a toothbrush made specifically for your child's age group, and one with has soft bristles.
Only a small smear of toothpaste is needed if your child is under two years old. Once the child celebrates his or her second birthday, you can use a pea-sized amount of fluoridated toothpaste. Continue this practice until your child is five.
Of course, it is important that you monitor your child's tooth brushing closely to help educate about proper techniques. Some young children might try to eat or swallow toothpaste, and this needs to be strongly discouraged. Be sure to teach proper rinsing and spitting behavior to round out your child's early childhood tooth-care regimen.
For young kids, tooth brushing can be made into a fun event, and you can find a multitude of special toothbrushes that appeal to kids. There are even uniquely flavored and colored toothpastes that might encourage your child to get into the brushing game!