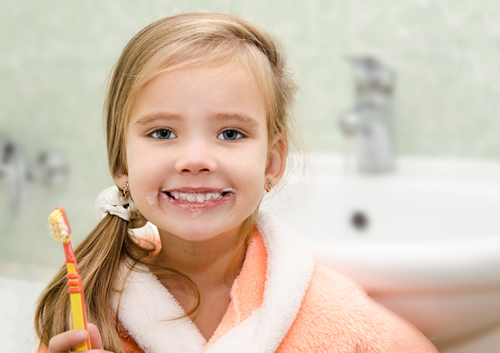 Let's call it the cranky phase. Let's call it the "Mom, I don't want to" stage. When kids are little, getting them to brush can be a challenge. They bite the toothbrush and eat the toothpaste. They make faces in the bathroom mirror, brush for two seconds, and run away. When it's time to brush, some kids even resort to kicking and screaming, which makes the bedtime chore a lot like, well, pulling teeth.
As a parent, you know the importance of good oral hygiene, so when the dreaded "brushing hour" arrives, if you want to prevent your child from turning into an angry pumpkin, you better have a few tricks up your sleeve to make brushing fun.
Game time
Kids love games, so it's time to get creative and turn tooth brushing into game time. Whether you're playing a hide and seek, peek-a-boo game with your child as he or she brushes, or singing the ABC's as your child brushes for two minutes, Drs. Joanne Oppenheim, Marilia Montero, and Mary J. Hayes and our team at Pediatric Dental Health Associates, Ltd recommend turning the process into play. Games are based on a reward system, right? If your child does a good job, put a sticker on the calendar. Tell your son or daughter that five stickers will earn a treat at the end of the week.
Fun accessories
A toothbrush that lights up and blinks when you turn it on is more fun than a traditional toothbrush from the dentist's office. The same is true of a toothbrush that's shaped like your child's favorite animal or features a cartoon character. A fun accessory like a Smurfs or Angry Birds toothbrush might make all the difference. A timer is another fun accessory. Give your child the special responsibility of setting it for two minutes before brushing.
The Great Toothpaste Experiment
Kids can be notoriously picky eaters, so it stands to reason that they would be picky about their toothpaste flavors too. Little Johnny might like strawberry, whereas Suzie prefers mango. Spend a night experimenting with different flavors (yes, it's another game). Say something like, "It's just like sampling different flavors of ice cream, right kids?"
Eventually, your child will develop the healthy habit of brushing on a regular basis, and think nothing of the time it takes to clean his or her teeth. Just remember to make it fun, and it can be a great experience for you both!
To learn more about making brushing fun for your little one, or to schedule an appointment with Drs. Joanne Oppenheim, Marilia Montero, and Mary J. Hayes, please give us a call at our convenient Chicago office!